Programming Ford Remotes
How to swap the immobiliser chip from a faulty remote to a new remote.
Follow the remote programming instructions for the new remote.
INSERT ANY KEY INTO IGNITION
TURN IGNITION SWITCH FROM POSITION 1 TO POSITION II, 4 TIMES WITHIN 6 SECONDS, FINISHING AT POSITION 1, THE SYSTEM WILL CHIME / BLEEP
WITHIN 10 SECONDS PRESS AND HOLD ANY BUTTON ON THE REMOTE KEY FOB, THE SYSTEM WILL CHIME / BLEEP WITHIN 10 SECONDS PRESS BUTTON ON ANY OTHER REMOTE TO BE PROGRAMMED.
TURN IGNITION TO POSITION II FOR 10 SECONDS
TURN IGNITION OFF AND REMOVE KEYS
TEST REMOTE KEY FOB
Ford Transit Key Fob Remote Control Programming
Get in to the van and make sure all doors are closed.
Put any key that turns the ignition in to the ignition.
Turn the ignition from position "0" to position "II" eight times within 10 seconds.
The ignition key will end in the position "II"
The door locks will lock and unlock, the van is now in "programme mode" you only have 20 seconds for the next instruction
Press any button on the new remote
The door locks will lock and unlock, this indicates the remote is programmed
Repeat instruction 6 for any existing remotes or new remotes (a maximum of 4 remotes can be programmed)
Turn the ignition to position "0" the door locks will lock and unlock to show the programming is complete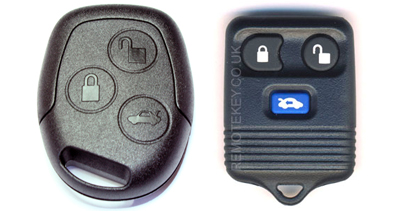 FAQ / Help
What if I have no remotes?
If you have no remotes use this procedure to check if your van has the system fitted, if the van locks and unlocks the doors the system is fitted and can have a remote programmed, if you do this just turn the ignition to position "0" to finalise you do not need to programme a remote, this will also erase any remotes, very useful if you have lost a remote or had one stolen, this remote will be erased stopping any unauthorised entry to your van
N.B. Ford remote key fobs are sometimes reffered to as Ford plips, Ford zappers, remotes, remote plips or remote zappers. All of these common phrases can be used to describe a Ford remote key fob.